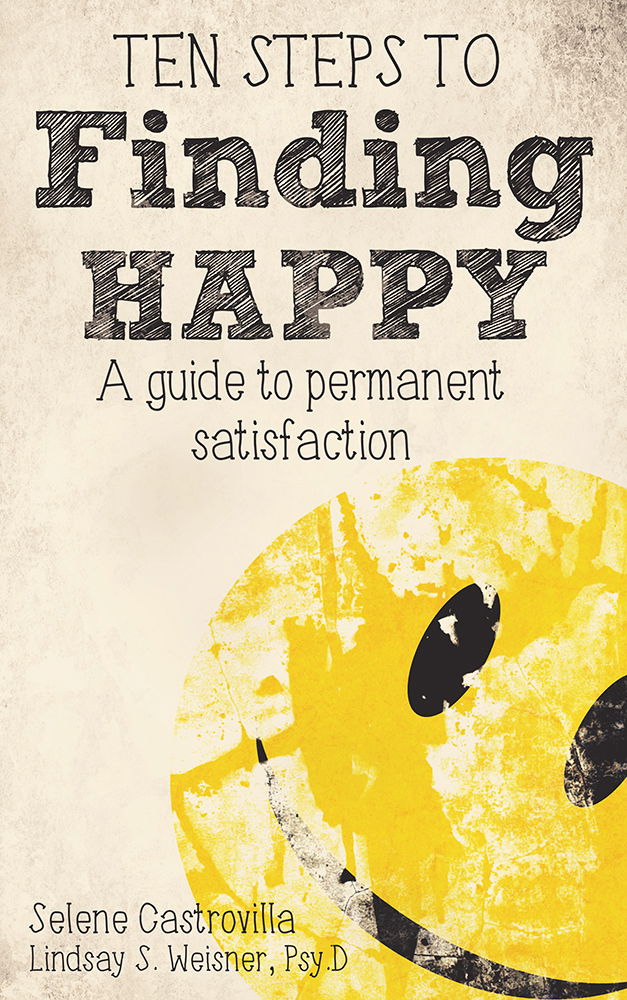 Our newest release is TEN STEPS TO FINDING HAPPY: A GUIDE TO PERMANENT SATISFACTION.
Releasing on March 20, 2020, the United Nations' International Day of Happiness,
we are aligned with this mission of bringing happiness to every human.
We're all human, sharing a planet and trying to get by. We're all looking for happy. Why is it so hard to find? Ten Steps to Finding Happy navigates your soul. Each step comes with simple, specific actions—not vague mumbo-jumbo or convoluted language. This is a straightforward path to happiness, delivered to you by a writer, a psychologist and 24 experts.
Award-winning author Selene Castrovilla tackles the emotional perspective, peppered with personal anecdotes and honest admissions. In the sections titled From the Doctor's Desk, Dr. Lindsay S. Weisner offers logical, research-based, psychologist-approved information that will provide the PROOF for which lovers of reason thirst. Read both, and figure out what moves you more, your mind or your heart. There is no right or wrong answer. BONUS! In the A Note From the Expert segments, guest writers deep dive into their professions, providing clear information and scientific evidence backing up this ten-step process.
Isn't it time to be on your way to happy?
Advance praise for Ten Steps to Finding Happy:
"I loved this book! It's jam-packed with fun, feasible, and inspirational ideas, quotes, tips, strategies, and stories that will help any reader break out of the rut they've been stuck in and find happiness in their daily lives." —Carla Naumburg, PhD, clinical social worker and author of How to Stop Losing Your Sh*t With Your Kids
"If you're looking for a fun and accessible guide to taking concrete steps to find happiness starting today, look no further." - Patrick J. McGinnis, host of FOMO Sapiens podcast and author of The 10% Entrepreneur: Live Your Startup Dream Without Quitting Your Day Job
"Anyone who struggles with feeling fulfilled in daily life (read: anyone) can benefit from reading this book. Highly recommend!" -Dr. Samantha Rodman, founder of drpsychmom.com and author of 52 Emails to Transform Your Marriage and How To Talk To Your Kids About Your Divorce.
"These credentialed ladies will give you a book chock-full of research (why and how) and tons of motivation to get to feeling better in an easy to read book. Yes, I said a self-help book you will actually read. Not just donate next year." —Tasha Jackson Fitzgerald, MA, MFT
Check it out FOR FREE!
Don't wait for happiness